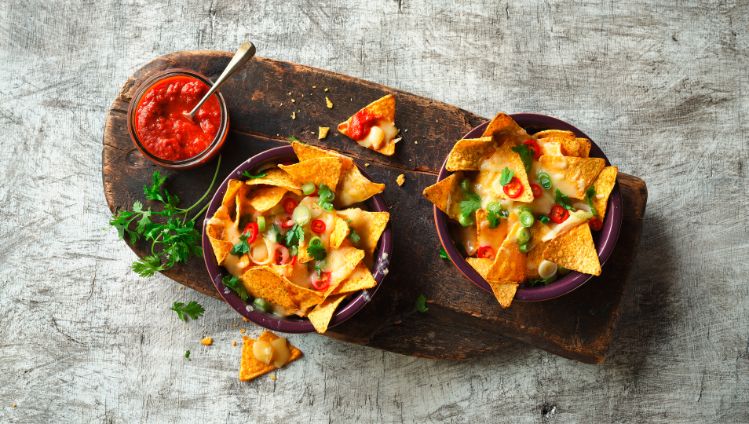 #KALTBACH Recipes
Cheese nachos with spicy tomato salsa
INGREDIENTS
Serves 4
PREPARATION: approx. 30 minutes
BAKE: approx. 7 minutes
4 ovenproof dishes of approx. 600 ml each
TOMATO SALSA
1 tbsp olive oil
2 cloves garlic, pressed
1 tin of chopped tomatoes (approx. 400 g)
1 tsp cumin powder
1 pinch of sugar
½ tsp salt, a little cayenne pepper
CHEESE NACHOS
200 g KALTBACH Appenzeller®, grated
1 spring onion, in fine rings
1 red chili, seeded, in rings
a little coriander or flat-leaf parsley, shredded
PREPARATION
TOMATO SALSA: Heat oil, sauté garlic briefly. Add the tomatoes, season, simmer for approx. 20 min.
CHEESE NACHOS: Mix the KALTBACH Appenzeller® with the onion and chili. Divide the cheese mixture and tortilla chips into 4 ovenproof dishes of approx. 6 dl each.
Bake in the middle of the oven preheated to 200°C for 5-7 minutes. Remove, sprinkle with coriander or parsley. Serve with tomato salsa.