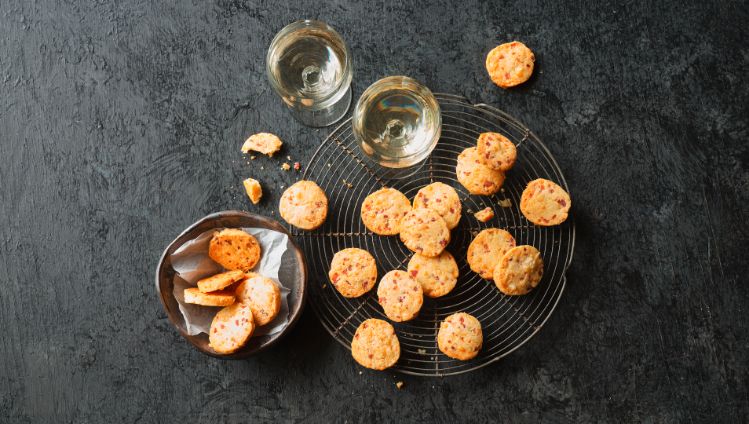 #KALTBACH Recipes
Cheese and bacon sablés
INGREDIENTS
For 4 people
PREPARATION: approx. 45 minutes
COOL: approx. 1 hour
BAKE: approx. 10 minutes
80 g bacon cubes
150 g butter, very soft
150 g Le Gruyère AOP KALTBACH, finely grated
1 egg
1 tsp salt
cayenne pepper
220 g white flour
1 tsp baking powder
PREPARATION
Fry the bacon until crisp, cool on kitchen paper. Finely chop the bacon.
Beat the butter, Le Gruyère AOP KALTBACH, egg, salt and cayenne pepper with the whisk of a mixer until light and fluffy. 3.
Mix flour and baking powder, add to the butter-cheese mixture, mix briefly to form a dough, do not knead.
Shape the dough into rolls of approx. 3 cm ø each, wrap in foil and chill for approx. 1 hour. Cut the rolls into slices approx. 5 mm thick. Place the sablés on two baking trays lined with baking paper. 5.
BAKE: Bake in an oven preheated to 200°C (hot air) for 8-10 minutes. Remove and leave to cool on a wire rack.
TIPS:
The sablés can be served as an aperitif or as a side dish with a leafy salad.
Use 50 g finely chopped walnuts instead of bacon.
Add finely chopped thyme or rosemary to the dough.
To obtain fine, crumbly sablés, the dough should only be joined together, not kneaded.
The sablés taste best fresh.
The dough rolls can be frozen in portions. Allow the rolls to thaw briefly, cut into slices and bake according to the recipe.