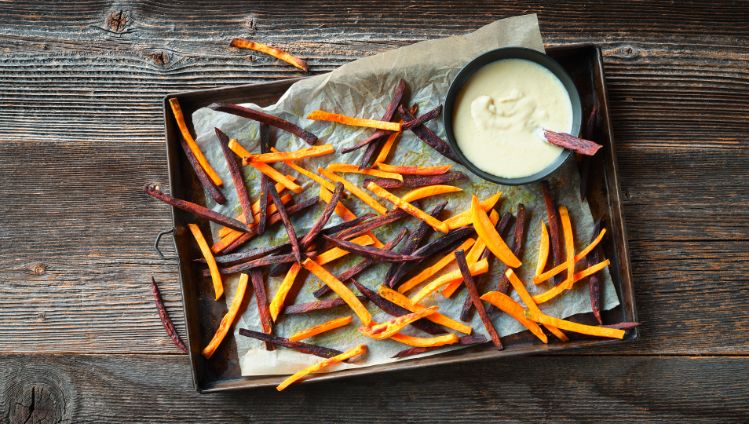 #KALTBACH Recipes
Sweet potato fries with cheese dip
INGREDIENTS
Serves 4
PREPARATION: approx. 25 minutes
WAITING TIME: approx. 15 minutes
BAKE: approx. 25 minutes
CHEESE DIP
100 ml milk
100 ml cream (full fat)
1 tsp mustard
200 g KALTBACH Appenzeller, grated
nutmeg
salt and pepper
SWEET POTATO FRIES
500 g each of orange and purple sweet potatoes, cut in fries
2 tbsp olive oil
1 tbsp curry
1 tsp coriander powder
salt
PREPARATION
CHEESE DIP: Bring milk and cream to the boil, reduce heat. Stir in mustard. Turn off the heat. Add KALTBACH Appenzeller, stir until melted and season. Allow the mixture to cool until the dip thickens slightly.
SWEET POTATO FRIES: Place sweet potatoes in a bowl, pour boiling water over them and leave to stand for approx. 15 minutes. Drain potatoes, dry well. Dry bowl, mix oil, curry and coriander powder in it. Add the potatoes, mix. Spread the potatoes on two baking trays lined with baking paper.
Bake in an oven preheated to 210 °C (hot air) for 20-25 minutes. Take out of the oven, season with salt. Serve with cheese dip.