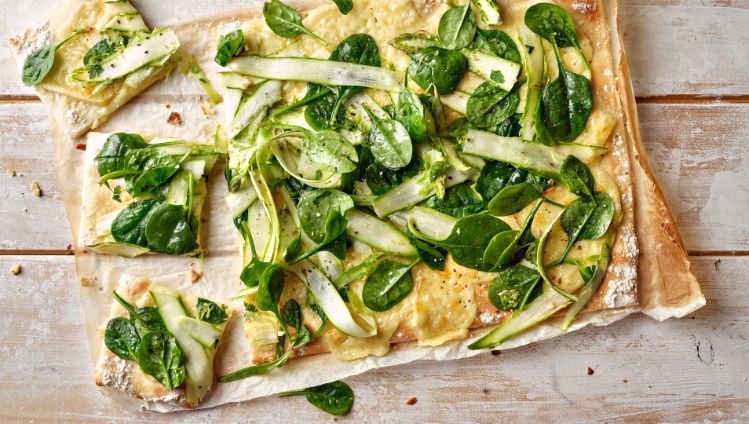 #KALTBACH Recipes
Spring Tarte
INGREDIENTS
Serves 4
PREPARATION: approx. 25 minutes
BAKE: approx. 20 minutes
TARTE
1 rectangular rolled-out ready-made pizza dough (approx. 580 g)
300 g KALTBACH Raclette, in pieces
TOPPING
250 g green asparagus, shaved lengthwise into thin strips
50 g young spinach
1 tbsp white balsamic vinegar
1 tbsp rapeseed oil
2 tbsp chervil, leaves plucked off
Salt, pepper
PREPARATION
Place the pizza dough with the baking paper on a baking tray and prick it with a fork.
BAKE: Bake on the lowest rack of the oven preheated to 220°C for approx. 10 minutes. Spread the KALTBACH Raclette on top and bake for 8-10 minutes.
TOPPING: Mix the asparagus with all the ingredients up to and including the chervil, season. Remove the tart from the oven, spread the asparagus mixture on top. Cut into pieces, serve immediately.