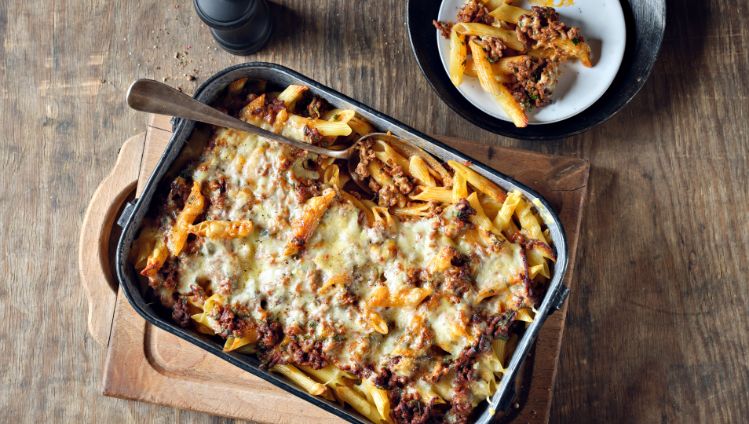 #KALTBACH Recipes
Pasta gratin
INGREDIENTS
Serves 4
PREPARATION: approx. 30 minutes
BAKE: approx. 30 minutes
MEAT
350 g minced beef
Oil for frying
1 onion, finely chopped
2 cloves of garlic, pressed
3 tbsp tomato purée
100 ml red wine
250 ml water
Salt, pepper or cayenne pepper
½ bunch flat-leaf parsley, chopped
3 tbsp cream
GRATIN
300 g pasta (e.g. penne)
150 g KALTBACH Emmentaler, grated
150 g Le Gruyère AOP KALTBACH, grated
PREPARATION
MEAT: Fry the meat in portions in hot oil for approx. 3 minutes each, remove. Fry the onion in the same pan. Briefly sauté the garlic. Add the meat again. Add the tomato purée and continue to cook briefly. Add wine and water, bring to the boil, season, cover and simmer over low heat for about 20 minutes. Mix in the parsley and cream.
GRATIN: Cook the pasta in boiling salted water until just al dente, drain. Mix KALTBACH Emmentaler AOP and Le Gruyère AOP KALTBACH. Place ½ of the pasta in an ovenproof dish. Mix with ½ meat sauce and ½ of the cheese mixture to cover. Repeat the process.
BAKE: Bake in the middle of an oven preheated to 120°C for 25-30 minutes.