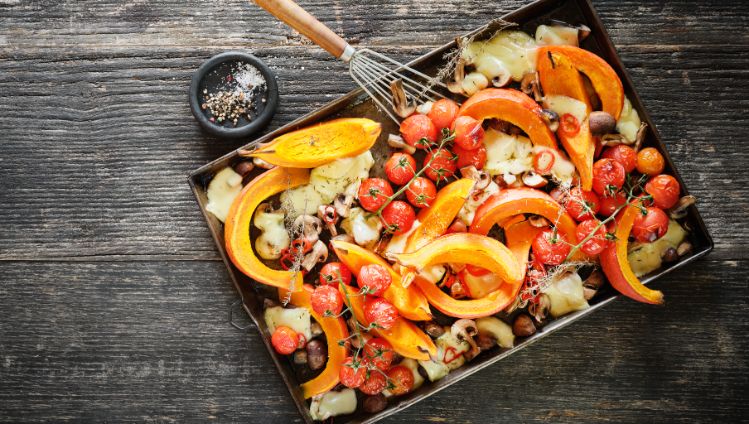 #KALTBACH Recipes
Roasted pumpkin with mushrooms and cheese
INGREDIENTS
Serves 4
PREPARATION: approx. 30 minutes
BAKE: approx. 25 minutes
900 g pumpkin (e.g. orange peck), rinsed hot
250 g brown mushrooms, halved or quartered depending on size
2 red pepperoncini, in rings, seeded
2 tbsp butter, liquid
1 tsp salt
8 thyme sprigs
350 g cherry tomatoes on the branch
200 g KALTBACH Creamy, in slices
Fleur de sel, pepper
PREPARATION
Cut the pumpkin in half, remove the seeds, then cut into 2-3 cm thick slices, including the skin (see tip). Mix the pumpkin with all the ingredients up to and including the thyme in a bowl, spread on a baking tray lined with baking paper. Divide the tomatoes between them.
BAKE: Bake in the middle of an oven preheated to 220°C for approx. 25 minutes. Remove the tray, spread the KALTBACH Creamy on top. Sprinkle some of the thyme leaves directly over the cheese. Continue baking for 5-10 min. until the cheese has melted, season.
TIP
The peel of the orange peck (Hokkaido) is edible when cooked through. Therefore, if using this variety, the pumpkin does not need to be peeled in this recipe.